Reading
Reading
Reading is an invaluable skill and we aim to motivate our children to become confident and enthusiastic readers.
The school environment, teachers and teaching assistants promote a positive approach to reading. We do this by sharing our own enthusiasm for literature as well as by ensuring that our class and central libraries are well-stocked, organised and welcoming.
The Accelerated Reader Programme is used to promote, encourage and give a progressive approach to reading. We celebrate word-count progress both on an individual level and as a school.
Daily reading sessions often based on class novels ensure coverage of key objectives.
Our class-based Reading Karate system ensures that children are motivated to read at home and are encouraged to find the love and passion for reading in their own time.
Teachers share class novels or books with their classes and these frequently form the basis for other learning.
"Your word is a lamp to my feet and a light to my path." Psalm 119:105
In our Curriculum, your child's learning will be underpinned by a novel study and this will also be their class reader. The aim of this is to engage the children and immerse them in the vocabulary which is then supported via knowledge organisers and their vocabulary list for the term.
At St Meriadoc Academy we believe that it is important that all children become fluent and confident readers who are able to appreciate the value of reading in their lives. We love reading here at SMJA. We do lots to promote the enjoyment and love of reading at our school. We believe in supporting every child to become a lifelong, confident and independent reader. Reading is a lifelong skill, which we try to develop as every child continues their journey through SMJA. Reading, at St Meriadoc Junior Academy, is a top priority. We know that the ability to read and communicate can have a profound effect on a child's life choices and ability to unlock the key to their futures allowing them to 'Shine their Light' in Cornwall, nationwide and beyond! If you're an adrenaline-chaser, a solace-seeker or an etymology-lover, we provide many opportunities to promote, encourage and develop a love of reading.
Our reading policy and ethos is based on 'The Simple View of Reading' which suggests that children need to master both word recognition in fluency and language comprehension in understanding. This underpins our ethos and is the roots from which our reading practise grows, changes and adapts. According to new guidance from the EEF, children need phonological awareness of words as well as knowledge of grammar and syntax. This is why we place such a focus on promoting new and varied vocabulary and offering support to help children become confident phonologically with decoding as quick as possible as they enter our school.
Reading is a culture we aim to foster here at St Meriadoc. Our library is at the heart of our school. We have recently undergone a transformation of our library, allowing us to use the space as an area of understanding. Our library is a forest theme and this was selected by the children. We have our Year 6 Super Six Librarians that independently look after the library and maintain the upkeep of our gorgeous space.
Our all new Reading Karate Scheme encourages independent reading for pleasure as children work their way through the belts, dans and reading MASTER badges in order to become the READING STAR SENSEI! We encourage our parents to be on board via regularly signing the children's diaries to ensure they regularly read with their child to aid fluency and word recognition.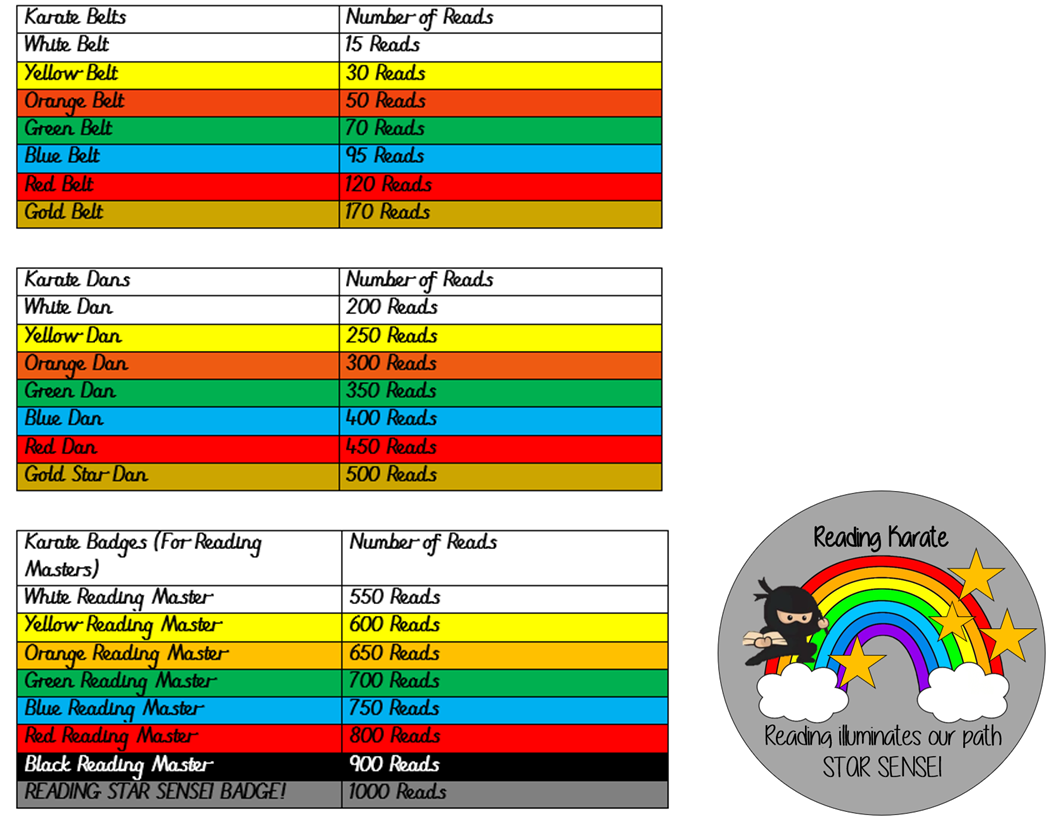 Books for Topics
Listed below are the top fifty books that are recommended that your child reads. Have a look and see how many of these you can read this year. If you click on the link you can also download a checklist too. Happy reading!
https://www.booksfortopics.com/year-3
https://www.booksfortopics.com/year-4
https://www.booksfortopics.com/year-5
https://www.booksfortopics.com/year-6