Reading and Writing Competitions
Picture Book Competition
Children and young people aged four to 18 years are being challenged to make their own picture book with the launch of the Reading Zone Picture Book Competition 2022.
readingzonepicturebookcomp2022_guidelines.pdf
The competition is open to schools, libraries and homes until Friday 22 nd April 2022 and is an ideal activity for World Book Day. Author and illustrator Sarah McIntyre (The New Neighbours / Kevin) will select the winning picture book entries across three Categories. These include: Young Creators (ages four to six years); Primary (ages seven years plus) and Secondary (ages 11 years plus).
There is an additional Achievement Award for the most enthusiastic 'behind the scenes' activities that have gone into making picture book entries, such as the whole school getting involved. Guidelines: Picture books can be made by individuals, groups or whole classes, using any media. Each picture book should be up to 24 A4 pages in length (or less), including covers. Books should be in portrait style (upright) rather than landscape.
Deadline: Entries must arrive by Friday 22nd April 2022. Each entry must have a completed Entry Form attached, which you can download at www.ReadingZone.com (via the Picture Book Competition button). Please include an SAE (stamps, not a dated printout) if you want your picture book returned. ReadingZone will send feedback and a certificate to those taking part. Winners: The four winners and overall winner will be announced in June.
Each winner will receive £100 of books for their school or library, plus a free online author / illustrator event for the overall winner. The winning picture books will be shared online at www.ReadingZone.com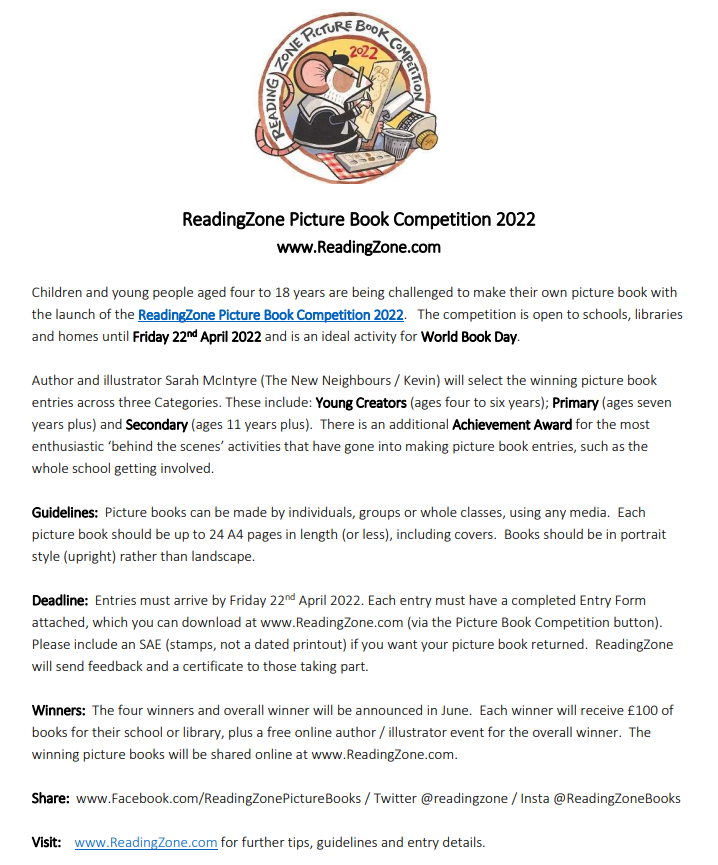 Collin's Big Cat Writing Competition - Closes 30th April 2022
If you found yourself needing to travel home during the past year, maybe your adventures have looked a little different this year but maybe that helped to make the homecoming even more sweet. Maybe If you sought to build a home for yourself this year whether online or offline and maybe this has presented some unique challenges and interesting twists to the story.

Whatever it is, they want to hear your response to the question, WHAT DOES HOME MEAN TO YOU?
You can write a story, a letter, a poem, a play; whatever it is, we cannot wait to read them!
Enter here: Primary | Primary English | Big Cat Writing Competition 2022 – Collins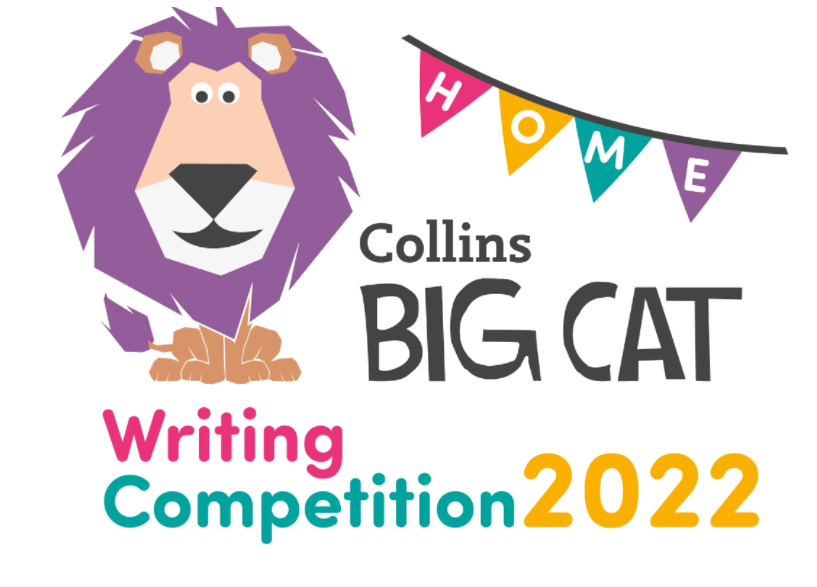 .